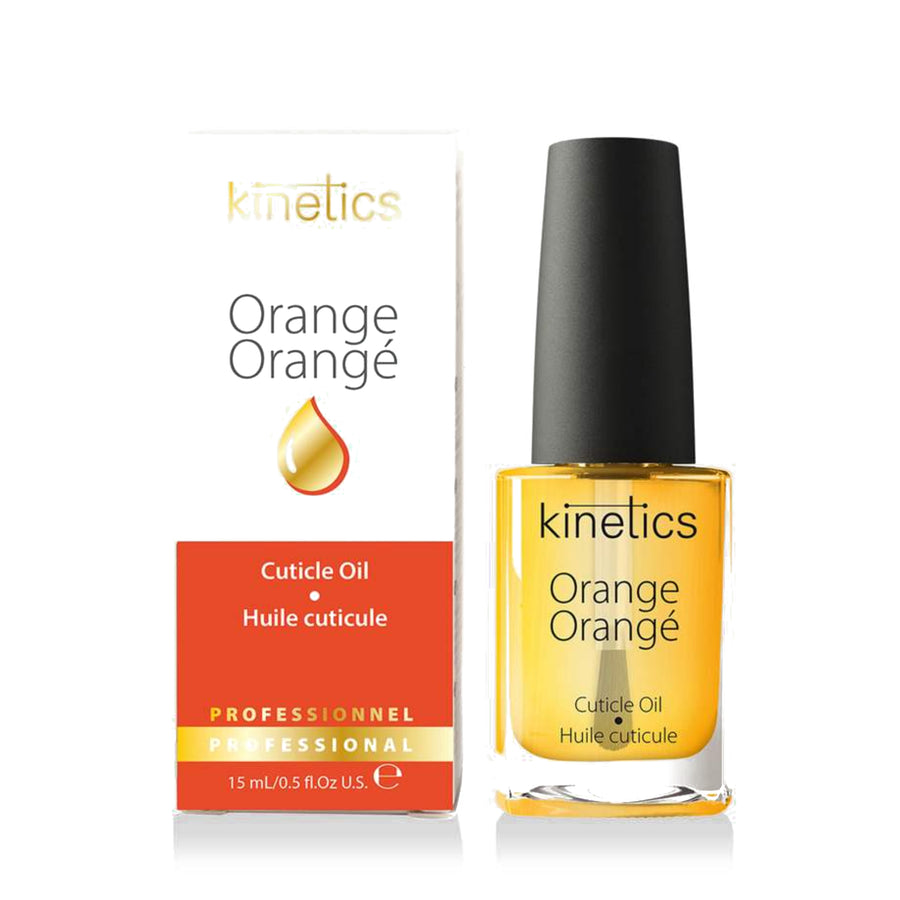 Kinetics
Orange Cuticle Oil
An essential treatment which is recommended for daily use to keep your nails and cuticles healthy. Cuticle oil stimulates healthy nail growth and nourishes and softens cuticles. With daily use, it improves nail condition, keeps cuticles supple and healthy, and heals dry and irritated cuticles. Contains:
• Sweet Almond Oil - Easily penetrates into the skin and nail plate, leaving a non-greasy feel. Helps to balance loss and absorption of moisture in the nails and cuticle. Nourishes and softens the skin. Protects skin from environmental factors and heals damaged and irritated cuticles.
• Vitamin E - Possesses strong antioxidant properties, protecting the skin from harsh damage by free radicals. Increases moisture content and promotes healing for brittle, dry, and damaged skin.
• Myrrh Oil (Almond and Orange Oils) - Delivers a healing and rejuvenating effect, especially for dry and damaged skin. Provides proper balance for skin hydration.
• Lemon Peel Oil (Lemon Oil) – Calms irritated and inflamed skin, removes redness. Defends skin and fights infections. Acts as a mild skin lightener.

Contains 15 ml / 0.5 fl oz.

Apply a drop of Cuticle Oil to the cuticle and the nail bed. Massage with gentle rounded motions.

Prunus Amygdalus Dulcis Oil, Parfum, Commiphora Myrrha, Tocopheryl Acetate, Glyceryl Linoleate (and) Glyceryl Linolenate,+/- Citronellol, Cinnamyl Alcohol, Geraniol, Eugenol,Phenoxyethanol, Citral, Tocopherol, Methylparaben, CI47000, Butylparaben, Ethylparaben, Linaool, Isobutylparaben, Propylparaben, BHA, BHT, CI75130.