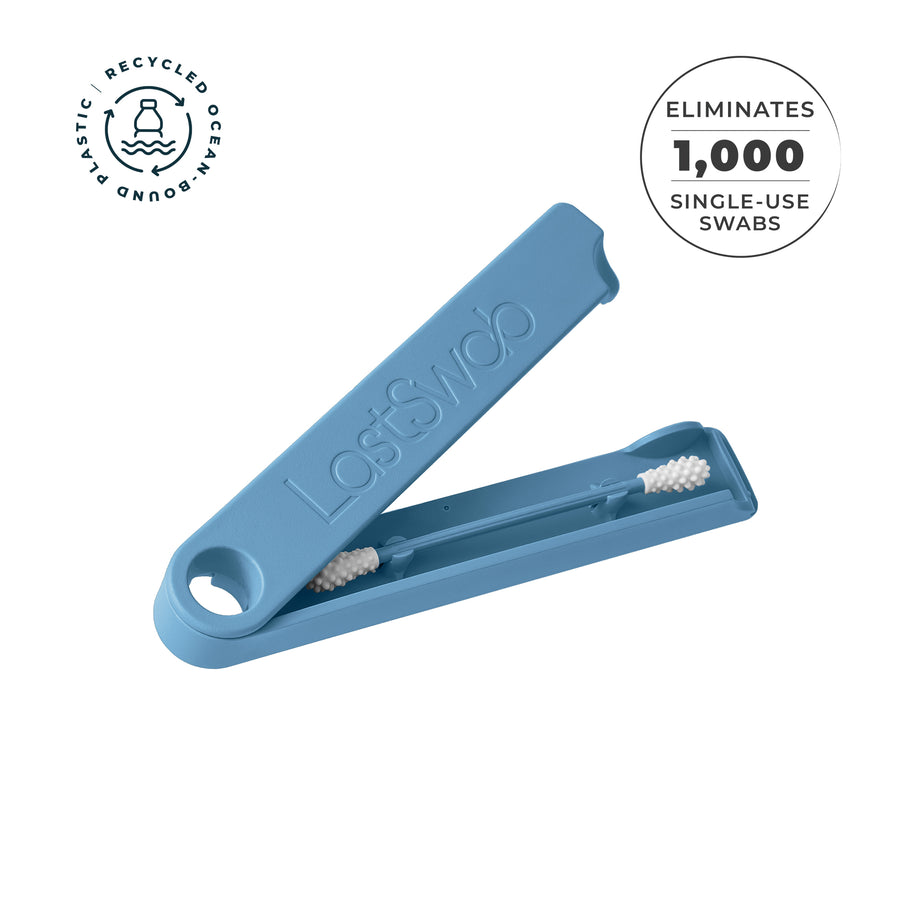 LastObject
LastSwab Basic
The world's first reusable alternative to a cotton swab! One LastSwab eliminates up to 1000 single-use cotton swabs, with bumpy tips designed for cleaning.
- Can be reused 1000 times
- Case made of Ocean-Bound Plastic
- Reduces carbon footprint (CO2) by 83 %
- Reduces water consumption by 92%
- Reduces land use by 97 %
- Reduces primary energy demand by 91 %
- Considering all 22 environmental impact categories LastSwab is 8.3 times better than single-use
- After just 34 uses the entire carbon footprint (CO2) of LastSwab is lower than single-use swabs
The case for LastSwab will last for around 5 years. So take good care of it and it will last for another refill of the swab.
Ocean-Bound Plastic Certified
FSC recycled cardboard
Responsibly produced: We want to be a force for good to our partners, suppliers and manufacturers. This is why all our suppliers and manufacturers are audited and follow our Code of Conduct, promoting good working conditions, safety and limiting the environmental impact of the facility - regardless of where it's produced.

LastSwab is made in Germany or Slovakia

Take it out of the case and use it to clean your ears or tools or simply to enjoy a lovely massage from the bumpy and soft tips. Wash with soap and water, and pop it back into the case. Each LastSwab can be reused up to 1000 times, and will help you eliminate 1000 single-use items.
Note: Swab responsibly and never you swab into inner ear.

Material: The case is made of ocean-bound plastic that stops waste from entering our oceans. The swab tips are made from hygienic medical TPE and the strong and durable rod is made from PP and glass fibre. After a long and happy life the LastSwab case can be recycled together with plastic, while the rod is a mix of materials and should therefore be handled with your normal household waste. The (recycled: in process) carboard packaging can enjoy a new life by recycling it with cardboard.