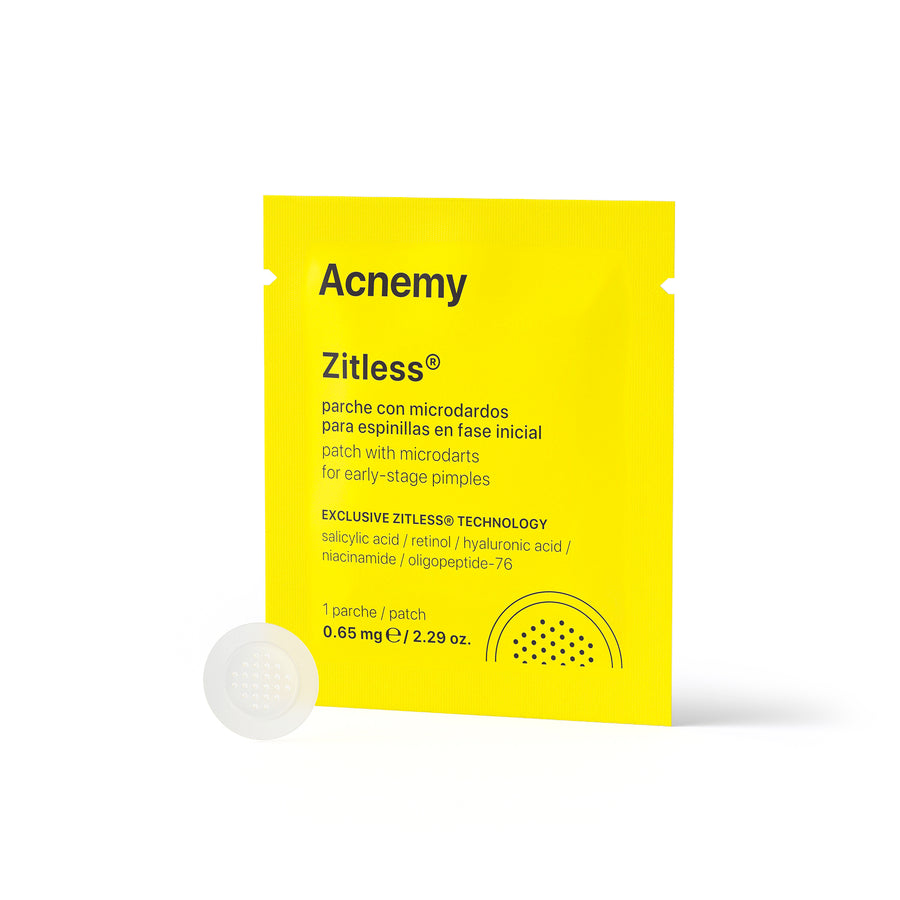 Acnemy
Zitless®
5 patches with microdarts for early-stage pimples

Zitless® is a pimple patch that contains 24 micro-darts made up of a unique blend of ingredients like retinol, salicylic acid, hyaluronic acid, niacinamide and olipeptide-76, the best acne-fighting ingredients . Once attached, the microdarts penetrate the first layers of the skin and dissolve, releasing the active ingredients and treating the root problem. Let it act for a minimum of two hours and voila! your pimple will have reduced its size and even disappeared. (pack 5 units)

When to use it:

Use it on clean skin on internal pimples . Do not apply any product before or after the cleanser on that area. Do not use it on pus pimples, for that we recommend Dryzit® .

You can combine it with:

Dryzit® if you have any active pus pimples.

STEP 1 Clean the area where the patch is to be applied with a facial cleanser and dry the skin with a towel.

STEP 2 Remove the patch from its wrapper without touching the center of the wrapper. Hold the patch by the edge and remove the protective film.

STEP 3 Apply the patch on the pimple to be treated and press for a few seconds in the center.

STEP 4 To maximize the effectiveness of the patch, allow at least 2 hours for the microdarts to dissolve and the active ingredients to be absorbed by the skin. Night use is recommended.

Sodium Hyaluronate, Niacinamide, Oligopeptide-76, Sodium Hydroxide, Pentylene Glycol, Lecithin, Salicylic Acid, Retinol, Polysorbate 20, Potassium Phosphate, Water.