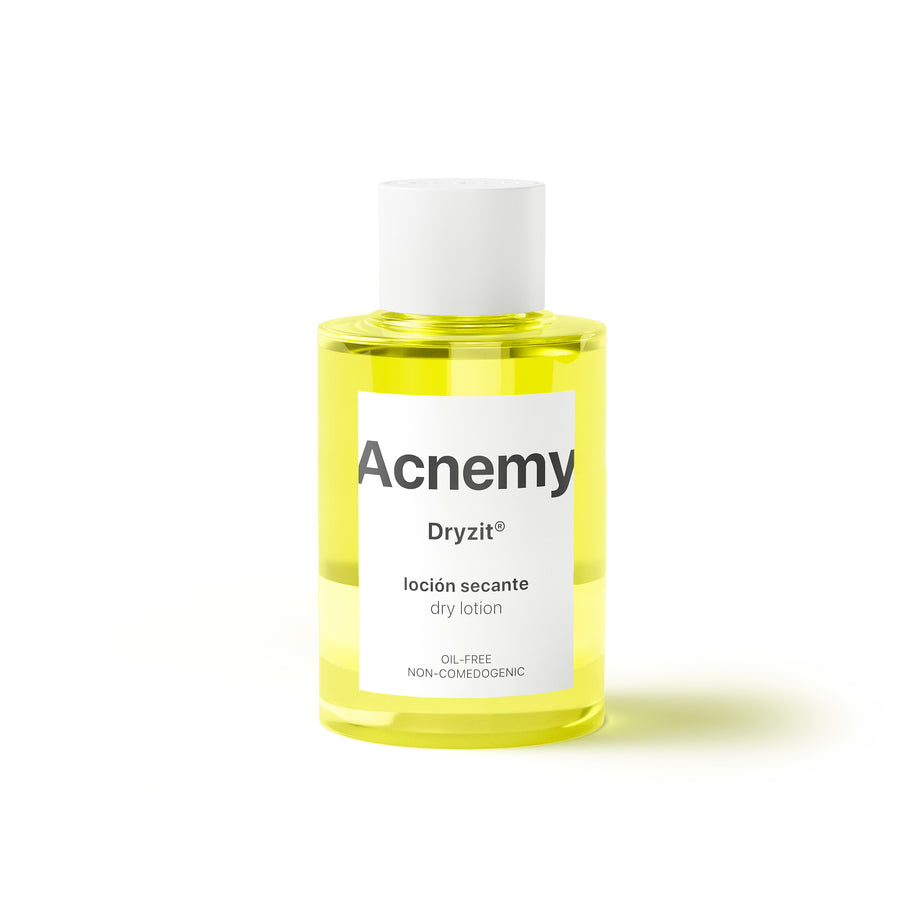 Acnemy
Dryzit®
Drying Lotion

Dryzit® will help dry out the pus pimples right away. The top layer is formulated based on Salicylic Acid, Zinc Oxide and Niacinamide that act as an acne peel and help remove debris and dead skin cells, while Calamine, the powder at the bottom of the container, reduces irritation and soothes the skin. Trust us, you'll be glad you added him to your acne-fighting team fast. If the bottle is shaken and the contents are mixed, simply set the bottle on a flat surface and allow 24 hours for the ingredients to settle. The efficacy of the product is not affected.

When and how to use it :

Use it on pimples of pus to quickly dry them out. You can apply it on different skin pimples at one time. Submerge the swab to the bottom so that it can be impregnated with powder and liquid. Later apply it in the pimple of pus that you want. You can apply it after Zitcontrol® . Do not apply any product later on that area. Do not use it on internal pimples that do not have pus, for that we recommend Zitless® .

You can combine it with:

Zitless® if you have any internal pimples.

DO NOT SHAKE. If mixed, let stand until the powder is back at the bottom of the container. After cleansing and toning the skin, dip the Zitswab® stick into the powder at the bottom of the container. Apply directly on the area to be treated. Do not rub. Let dry and act. Rinse with plenty of water. Avoid direct sun exposure after application.

Isopropyl Alcohol, Aqua (Water), Zinc Carbonate, Zinc Oxide, Titanium Dioxide, Niacinamide, Glycerin, Methylpropanediol, Salicylic Acid, Salix Alba (Willow) Bark Extract, 4-Terpineol.