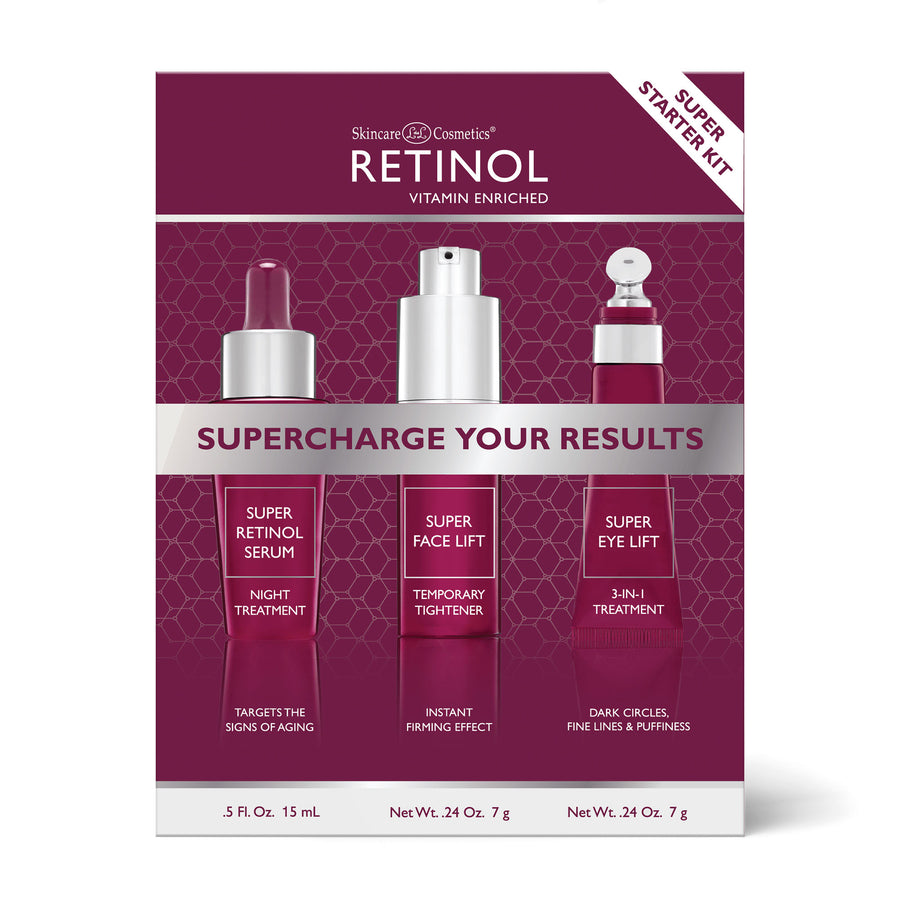 Retinol
Super Starter Kit
Supercharged with the proven power of Vitamin A. Super Retinol products are enriched with Vitamins C and E to encourage renewal and support healthy skin for a more sculpted and youthful look. Powerful Peptides and firming ingredients work synergistically with Retinol, visibly improving the look of skin texture and tone. Step up your Retinol regimen with these high-performance products for skin that looks and feels more uplifted, restored and radiant.

SUPER EYE LIFT 0.24 Oz 7g
A luxurious 3-in-1 treatment fights the look of dark circles, wrinkles, and puffy eyes. The Retinol and peptide formula helps smooth the appearance of fine lines and wrinkles. The unique tint visibly "color corrects" and brightens under-eye circles, blending into all skin tones, while the cooling massage applicator helps de-puff around the eye area. Its Retinol formulation gives an extra boost of firmness around the eye area.

SUPER FACE LIFT 0.24 Oz. 7g
Visibly firms and tightens for a lifted, younger look. Infused with Retinol, Vitamins C & E, this firming blend is a beauty "quick-fix". Not limited to the face, it can transform the neck and décolletage, leaving skin looking visibly smoother within minutes.

SUPER RETINOL SERUM 0.5 Fl. Oz. 15 mL
6x Retinol Super Serum contains the highest level of vitamin A in our Retinol line. It restores the look of smooth, beautiful and glowing skin with 3 Million I.U.'s of Retinyl Palmitate. This unique night-time accelerator encourages your skin's renewal process while you sleep. It lifts and firms as it targets lines, wrinkles, dark spots, pores, and blemishes.

Super Eye Lift: Use morning and evening on cleansed skin. Massage a small amount with an applicator tip around the eye area and smooth it until thoroughly absorbed. Super Face Lift: Apply a thin layer, in even strokes to freshly cleansed, dry skin. The product will dry in 1-3 minutes and is ready when the face feels pulled and tight. Now check the mirror! If a white excess residue appears, use moisturizer or a damp cloth to rub away. Follow with your makeup routine. Super Retinol Serum: Place 1-2 drops on clean skin and massage in until absorbed, avoiding the eye area.