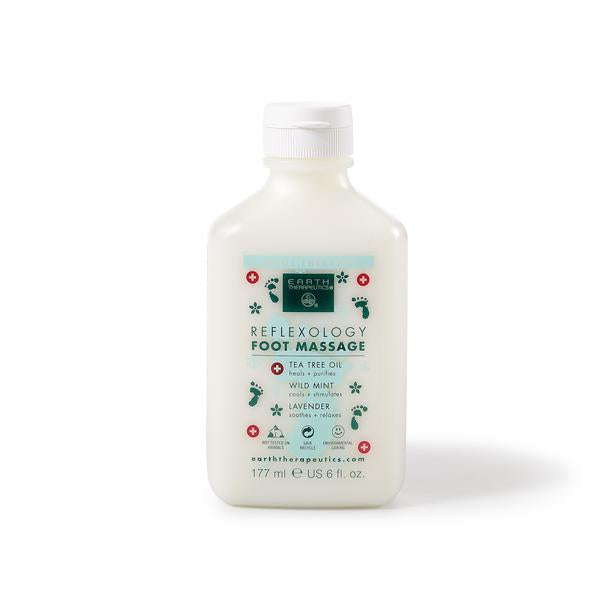 Earth Therapeutics
Reflexology Foot Massage Lotion
Reflexology resides in the belief that the feet contain "reflex" pressure points that mirror the pressure points located throughout the entire body­and that by massaging and manipulating the reflex points in the feet, vital "chi" energy is harmonized throughout the entire body as well. This results in a variety of therapeutic benefits­such as increased blood circulation, revitalized energy, and stress reduction.

Formulated to enrich and enhance all the health benefits of reflexology, this holistic foot massage treatment contains a relaxing, mind-calming infusion of aroma-therapeutic lavender blended into a natural greaseless base that allows the hands to glide easily over the feet. Wild Mint stimulates circulation to revive ­- while healing, purifying Australian Tea Tree Oil and nourishing botanicals provides the added benefit of conditioning and softening dry, damaged skin and calluses.

Recommended by Reflexologists and Professional Salons.

GREASELESS FORMULA. CONTAINS NO MINERAL OIL.

Certified Organic Tea Tree Oil, infusions of essential chamomile and lavender in purified water, sunflower seed oil, isopropyl myristate, glyceryl stearate, PEG-100 stearate, wild peppermint oil, orange oil, glycerin (vegetable), sweet almond oil, apricot kernel oil, soybean oil, lecithin, tocopherol acetate (vitamin E), retinyl palmitate (vitamin A), carrageenan, polysorbate 20, tea, methylparaben, isopropylparaben, butylparaben, phenoxyethanol (rose oil).
More from Earth Therapeutics