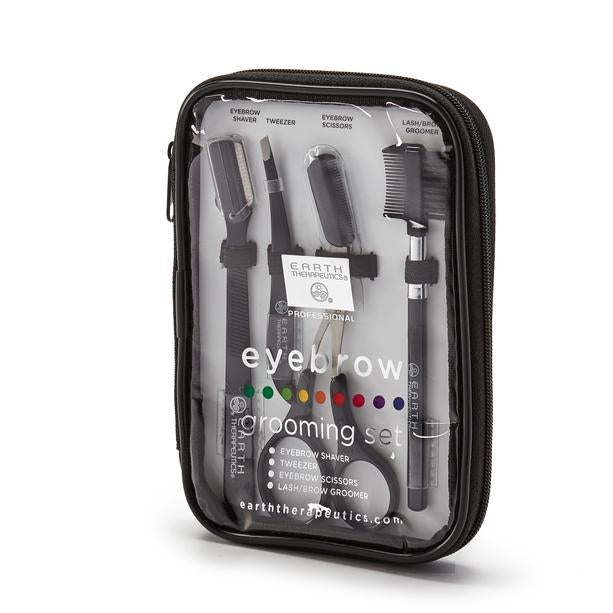 Earth Therapeutics
Eyebrow Grooming Set
Get the perfect brows with our new Eyebrow Grooming Set.

This set contains four (4) professional quality grooming implements arranged in an Earth-friendly designed, reusable portfolio case.

EYEBROW SHAVER - Equipped with a safety cover, the precision Shaver expertly trims the small, fine hairs of the brow-perfect for quick touch ups at home or on the go. Lightweight and non-slip grip for easy control.
TWEEZER - Rigorously tested for exacting accuracy, the Tweezer is precision crafted for flawless extraction and expert hair removal. Professional quality, stainless steel construction with a hand-filed tip. For best results, tweeze after a shower or after treating skin with a hot towel to open pores and soften hairs. Tweeze in the direction of hair growth. Isolate the hair to extract, pulling one hair at a time with a gentle smooth motion. Care hints: Please handle tweezer with care. Wipe clean after each use.
EYEBROW SCISSORS - The Eyebrow Scissors function both as a brow trimmer and cutting shears. With the comb in place, the brows hairs can be combed upward for easy visibility and trimmed with an opposing scissor edge. Or slide off and detach the comb-and the exposed blade and scissor edge act as a precision cutting tool. Ergonomically crafted with easy-to-hold, comfortable grips that ensure accuracy, this unique Eyebrow Scissor lifts and evenly trims brows in one easy sweep.
LASH/BROW GROOMER - Conveniently sized for portability and crafted to achieve the perfect finish, the tight bristles of the Brow/Lash Groomer help shape the brows-while the comb's fine teeth evenly separate lashes, removing any clumps or flakes after mascara application. Use as desired for full, shapely brows and elegant, defined eyelashes. After use, please clean periodically with mild soap and water.
More from Earth Therapeutics