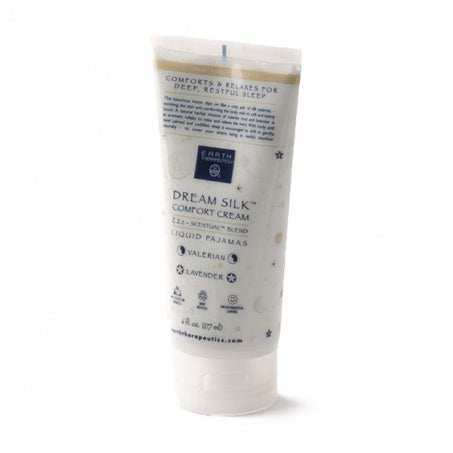 Earth Therapeutics
Dream Silk Comfort Cream
This luxurious lotion slips on like a cozy pair of silk pajamas - soothing the skin and comforting the body with its soft and balmy touch. A natural herbal infusion of valerian root and lavender is an aromatic lullaby to relax and relieve the mind. With body and mind calmed and coddled, sleep is encouraged to drift in gently, naturally - to cover your entire being in restful slumber.

~ Valerian Root calms and comforts
~ Natural Lavender soothes and relaxes

Use right before bedtime or nap time. For best results, focus on breathing easily and evenly for full aromatherapeutic effect. Also, to help you relax and unwind before sleep time, you may consider taking a nice, hot bath or shower; and then apply the lotion after drying off. Wonderful prescriptions for peaceful sleep.

Infusions of valerian root and lavender in purified water, glyceryl stearate, stearic acid, glycerin (vegetable), isopropyl palmitate, shea butter, xanthan gum, isopropyl myristate, aloe vera, soybean oil, sunflower oil, olive oil, sweet almond oil, aromatic oils, tea, polysorbate 20, lecithin, allantoin, potassium sorbate, cetyl esters, methyl/propylparabens, phenoxyethanol (rose oil).
More from Earth Therapeutics