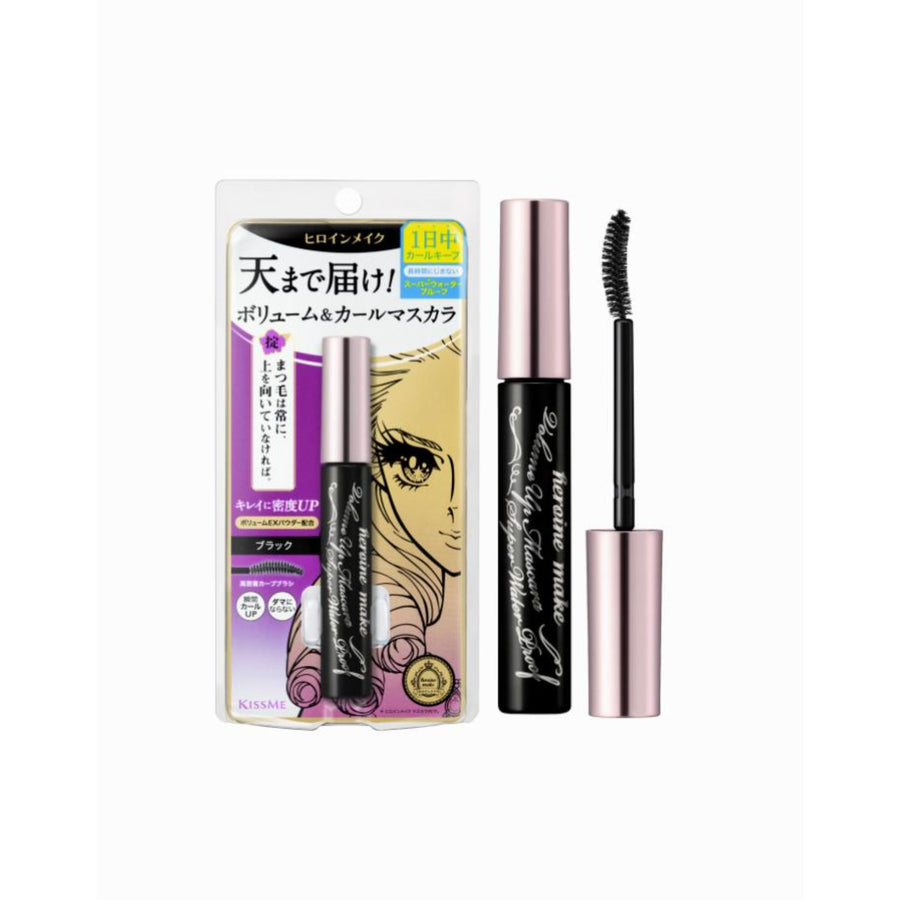 Heroine Make
Volume UP Mascara Super Waterproof
Bestseller! Lashes volumized like falsies! Super long lasting and waterproof mascara.
Bring instant attention to the eyes without a lot of effort with fuller, fluffier lashes!

- Newly improved formula
made to be more waterproof, smudge-proof, resistant to sebum, sweat, and tears.

- Thicker lashes with new Volume Ex powder!
Newly developed Volume Ex powder formula that easily sticks to lashes with just one coat. Clean densed lashes.

- Fuller & thicker effect
With volume separated powder, smooth-glide buildable formula creates serious volume.

- Long lasting curls!
Perfectly separated lashes curled up all day with instant curl lock formula and shape-memory polymer.

- Contains 6 eyelash beauty serum:
Camellia Oil, Royal Jelly Extract, Argan Oil, Wild Rose Oil, Panax Ginseng Root Extract, Almond Oil

How to use:

1. Comb outer corner with the inner curve of the brush from the roots to the tip of eyelashes.

2. Use outer curve of the brush to comb inner corner lashes from roots to the tip.

How to remove:

Recommended to remove with Heroine Make Speedy Mascara Remover or an oil base remover.

Key points to keep long lasting beautiful lashes:

1. Curl your eyelashes using eyelash curler prior to using mascara to have an even longer lasting beautifully curled up lashes.

2. Best used with the Heroine Make Curl Keep Mascara Base.

3. Advisable to stir mascara brush inside first to scoop up more products before using applying to the lashes.