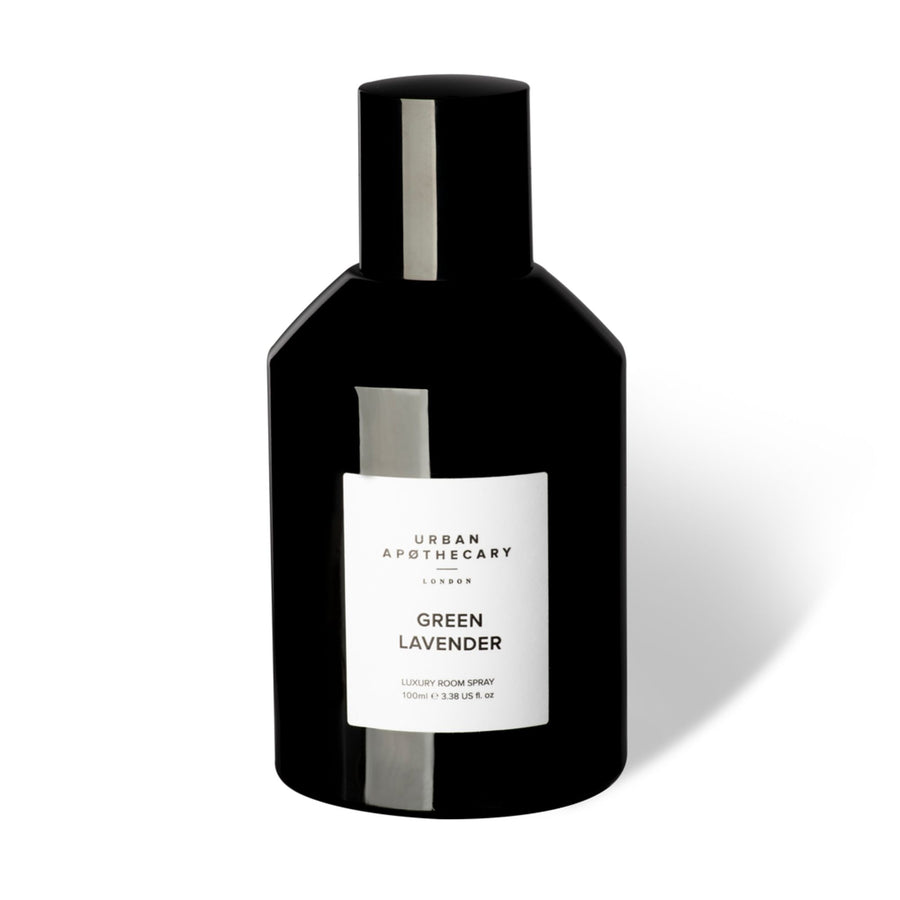 Urban Apothecary
Green Lavender Signature Room Spray
Mood
A breath of fresh air for rooms, this cleansing, modern lavender aroma encourages a take-it-easy mood.
Memory
Revisiting the apothecary garden, this aromatic recollection of summer beautifully blends soft wafts of lavender flowers with fizzy lemon balm, sprouting spearmint and clary sage.
Key Notes
Lavender Flower, Lemon Balm, Spearmint Leaf, Clary Sage Leaf, Orris Root and White Musk.
Scent Style
The enticing aromas of di erent aromatic plants are brought together with the beauty of living lavender as if floating on the breeze. Notes of sparkling and pure lemon balm, spearmint and clary
sage, add a citrus and green leafy accent that when underscored with soft trails of orris and white musk, transform the everyday into extraordinary.
Citrus, Floral, Herbs, Green

Product Information
Fine fragrance for the home, every 100ml Green Lavender signature room spray is presented in a stylish black glass bottle, crafted by artisans in our Leicestershire candle factory. Instantly refresh the air with evocative aroma, either in a fine mist for subtle scenting, or double the spritz for a richer fragrance experience.
Team the Green Lavender room spray with the matching scented candle or diffuser to create your
home's signature scent. We've even made a travel candle in the same fragrance, in a lightweight tin with lid, for taking the comforting scent of home away with you.

Danger: Highly flammable liquid and vapour. Causes serious eye irritation. Harmful to aquatic life with long-lasting e ects. Keep out of reach of children. If in eyes: rinse with plenty of water for several minutes. Remove contact lenses, if present and easy to do so. If eye irritation persists: seek medical advice. Continue rinsing. If on skin: wash with plenty of water. Keep away from heat, hot surfaces, sparks, open flames, and other ignition sources. May cause an allergic skin reaction.

Citral, Linalyl Acetate, Linalool, Tetramethyl Acetyloctahydronaphthalenes, 3,4,5,6, -Pentamethylhept-3- En-2-One, Alpha-Isom Ethyl Ionone.
More from Urban Apothecary