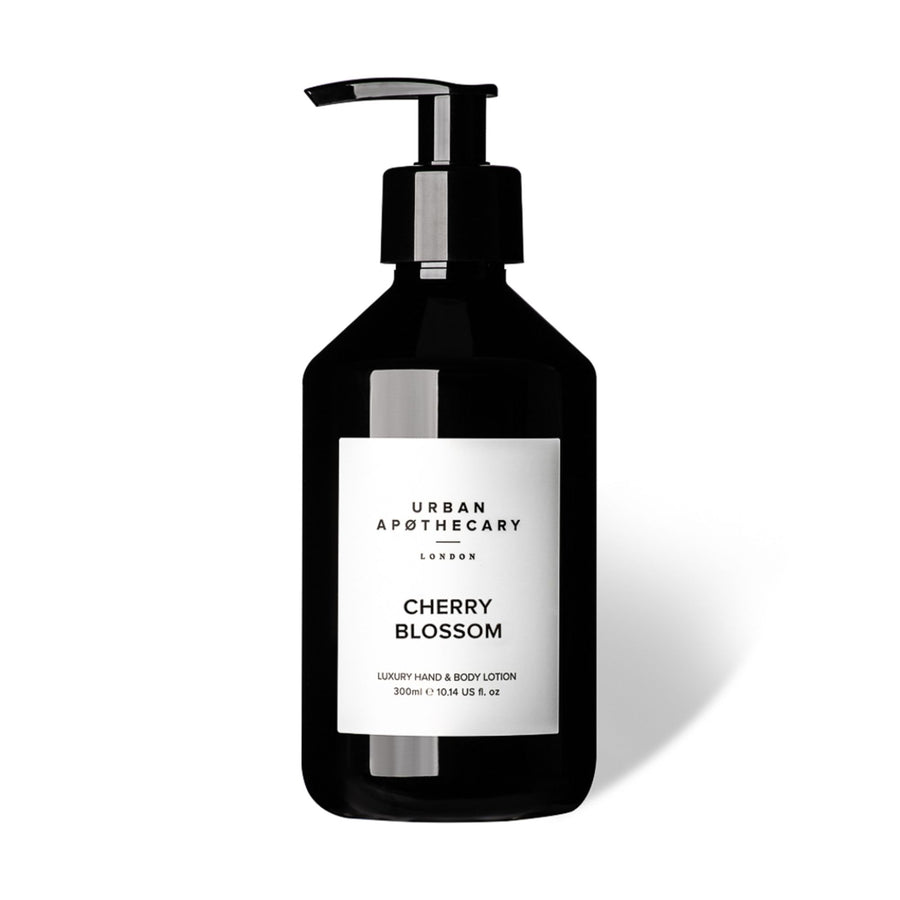 Urban Apothecary
Cherry Blossom Luxury Hand & Body Lotion
Mood
This enticing flower-water aroma lifts the tone in any room and will gently balance your mood.
Memory
Inspired by the memory of playing perfumer in younger years, this clean, delicate floral stirs cherry blossoms and jasmine petals with watery apple and fresh, pink melon.
Key Notes
Cherry Blossom, Jasmine Petals, Muguet, Apple, Pink Melon and White Musk.
Scent Style
Transparent layers of innocent white blooms dipped in notes of pink
melon and apple, encourage a peaceful and rejuvenating tone. Sheer
cherry blossom alongside muguet and dewy jasmine, create the
e ect of lightly perfumed flower-water. Delicate clouds of white
musk radiate throughout with a light and airy touch.
Powdery, Fruity, Marine and Floral

Product Information
This 300ml Cherry Blossom luxury hand and body lotion is made with moisturising shea and coconut
bu ers to help hydrate, nourish and leave skin feeling silky soft and beautifully scented. This
lightweight lotion glides easily over the skin and sinks in quickly.
Deepen your spa-at-home moment by beginning your uniquely scented skin-smoothing ritual with the matching hand and body wash. Both available in 300ml.

Avoid contact with eyes. If product gets into eyes, rinse immediately with plenty of warm water. For external use only.

Aqua, Butyrospermum Parkii Bu er, Ethylhexyl Palmitate, Glycerine, Cetyl Alcohol, Parfum, Cetearyl Alcohol, Prunus Amygdalus Dulcis Oil, Theobroma Cacao Seed Bu er, PEG-20 Stearate, Polyacrylamide, C13-14 Isopara n, Laureth-7, Phenoxyethanol, Benzoic Acid, Dehydroacetic Acid, Ethylhexylglycerin, Tocopheryl Acetate, Citric Acid, Disodium EDTA, Citronellol, Limonene, Geraniol, Hydroxycitronellal, Isoeugenol, Linalool.
More from Urban Apothecary