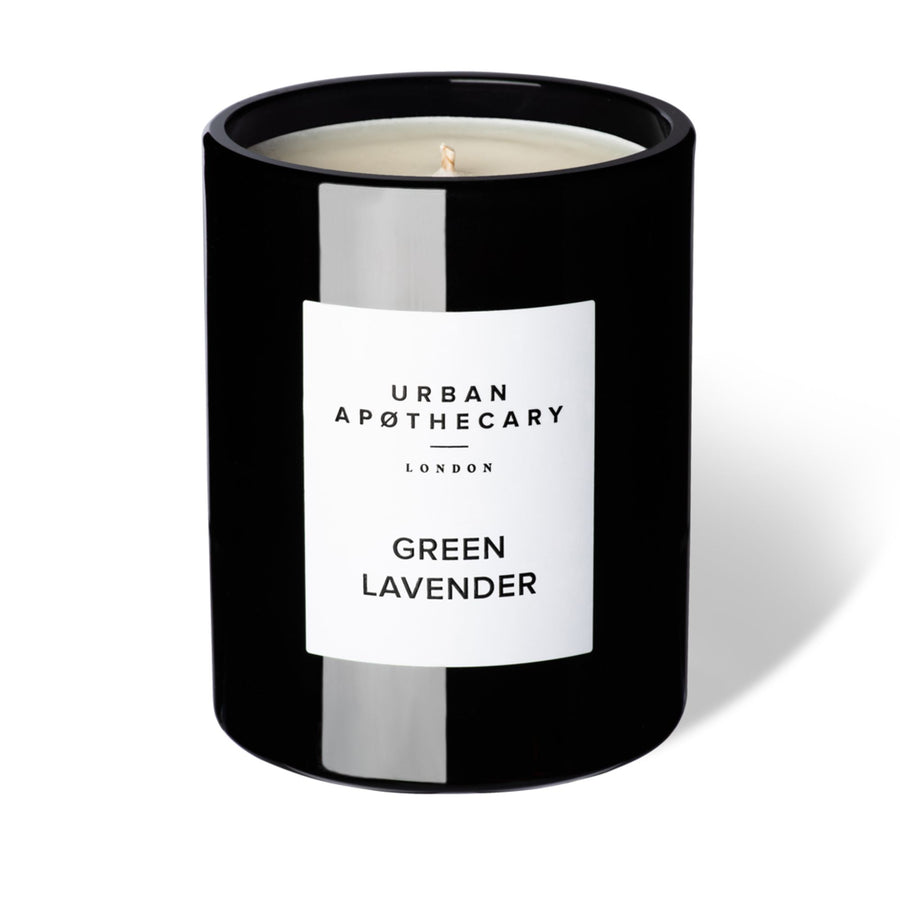 Urban Apothecary
Green Lavender Signature Candle
Mood 

A breath of fresh air for rooms, this cleansing, modern lavender aroma encourages a take-it-easy mood. 

Memory 

Revisiting the apothecary garden, this aromatic recollection of summer beautifully blends soft wafts of lavender flowers with fizzy lemon balm, sprouting spearmint and clary sage. 

Key Notes 

Lavender Flower, Lemon Balm, Spearmint Leaf, Clary Sage Leaf, Orris Root and White Musk. 

Burn Time & Dimensions 

Up To 60 Hours. Height 10.5cm x 8cm Diameter 

Scent Style 

The enticing aromas of different aromatic plants are brought together with the beauty of living lavender as if floating on the breeze. Notes of sparkling and pure lemon balm, spearmint and clary sage, add a citrus and green leafy accent that when underscored with soft trails of orris and white musk, transform the everyday into extraordinary. 

Citrus, Floral, Herbs, Green 

Product Information 

This 300g Green Lavender signature candle is hand-poured by artisans in our Leicestershire candle factory. Luxurious black glass combined with the perfect blend of bespoke fragrance, natural soy vegan wax and a cotton wick creates a stylish scent expression that will infuse interiors for up to 60 hours. If Green Lavender is your home's signature scent, there's three different ways to introduce it to rooms. The scented candle provides fragrance and mood lighting, the matching diffuser gives a stream of scent that can continue even when you're not in the room, and the room spray is brilliant for that instant fragrance refresh.

Before Use: Remove all packaging. Do not burn candles on or near anything that can catch fire. Place on a heat protected level surface. Keep away from flammable materials, sources of heat, overhanging objects and polished surfaces. Keep out of reach of children and pets. Care Advice: Burn your candle until the wax has melted across the entire surface. Do not burn candle on or near anything that can catch fire. Do not blow candles out, extinguish with a suitable snuffer. Never use liquid to extinguish. Keep the wax pool clear of matches and other debris to avoid flaring and formation of secondary wicks. After extinguishing the flame, if necessary centre, straighten and trim the wick. It is essential to keep the wick trimmed to 5mm before re-lighting to avoid unnecessary smoke. Always leave at least 10cm between burning candles. Glass may become hot so allow to cool before touching. Keep the candle away from draughts and flammable materials. Never leave a burning candle unattended. Never move or tip a burning candle. When 1cm of wax remains, please dispose of your candle. Keep out of reach of children and pets.

Tetramethyl-4-Methyleneheptan-2-One, Citral. May produce an allergic reaction. Harmful to aquatic life with long-lasting e ects. Avoid release to the environment. Dispose of contents / container to approved disposal site, in accordance with local regulations.
More from Urban Apothecary