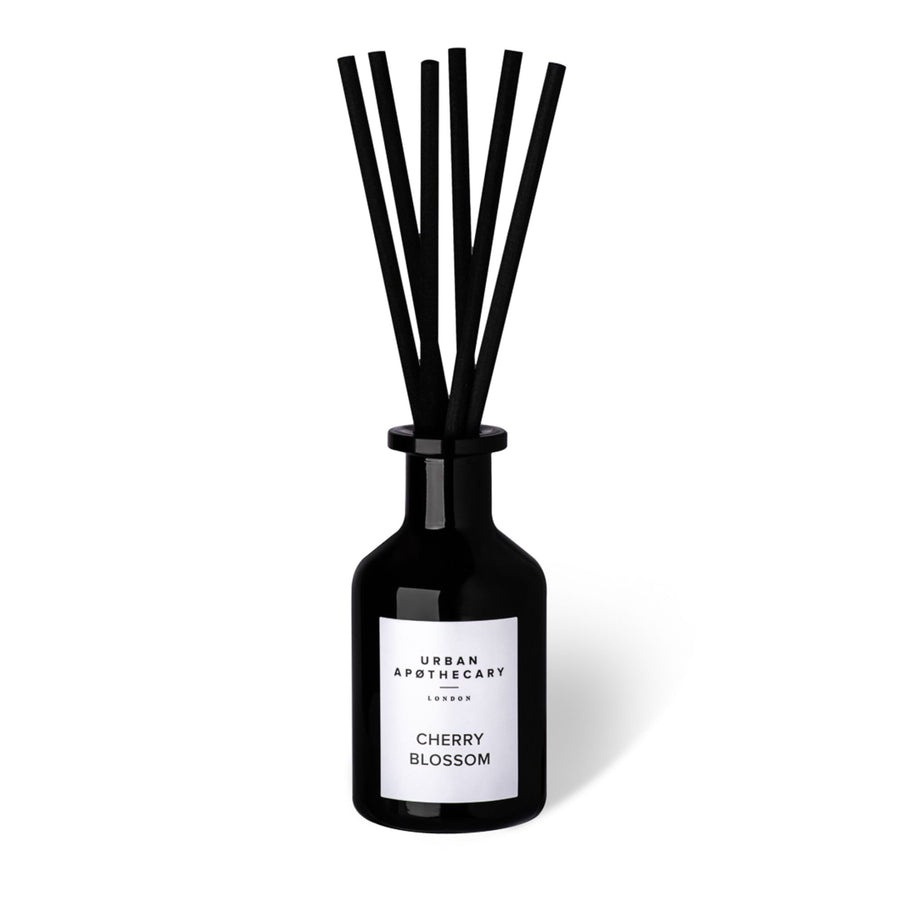 Urban Apothecary
Cherry Blossom Signature Diffuser
Mood
This enticing flower-water aroma lifts the tone in any room and will gently balance your mood.
Memory
Inspired by the memory of playing perfumer in younger years, this clean, delicate floral stirs cherry blossoms and jasmine petals with watery apple and fresh, pink melon.
Key Notes
Cherry Blossom, Jasmine Petals, Muguet, Apple, Pink Melon and White Musk.
Diffusion Time & Dimensions
Up to 12 Weeks. Diffuser With Reeds: Height 25cm x 6.2cm Diameter
Scent Style
Transparent layers of innocent white blooms dipped in notes of pink
melon and apple, encourage a peaceful and rejuvenating tone. Sheer
cherry blossom alongside muguet and dewy jasmine, create the
e ect of lightly perfumed flower-water. Delicate clouds of white
musk radiate throughout with a light and airy touch.
Powdery, Fruity, Marine and Floral

Product Information
This smart 200ml Cherry Blossom signature diffuser is hand-poured by artisans in our Leicestershire
candle factory. The luxurious black glass apothecary bo le with di user fragrance is accompanied by
six black reeds. The rich, captivating aroma of Cherry Blossom will infuse rooms with continuous scent for up to 12 weeks.
Placing a di user within your interiors gives a constant stream of fragrance. If you want to deepen the aroma and create more atmosphere, pair with the matching candle.
Once the di user is set up, you can carefully invert the reeds every few weeks for an extra boost to the fragrance flow, just be careful not to spill on surfaces. When your di user is at an end, we have a Cherry Blossom refill available that comes with six new black reeds, so you can both top up your fragrance and start again with fresh reeds

How To Use: Place reeds into the fragrance oil so they can start to absorb it and begin to di use into the air to fill your room with scent. For a more intense fragrance or to refresh, remove the reeds from the fragrance oil and turn the reeds upside down, so that the soaked ends are exposed. Turn the reeds like this on a regular basis and always over a paper towel to avoid any spills onto surfaces. For optimum levels of fragrance, turn the reeds once a week. Fragrance lifespan will vary with surrounding environmental conditions. To prolong fragrance lifespan, keep away from sources of heat and avoid direct sunlight. Care Advice: Flammable liquid, keep out of reach of children and pets. Do not light the reeds and keep away from sources of ignition. Avoid eye and skin contact. If on skin, wash with plenty of soap and water. If skin irritation or rash occurs: get medical advice / a ention. If swallowed, seek medical advice immediately and show this packaging. Do not place on varnished or plastic surfaces which may become damaged by fragrance oils. Use only as directed.

Ethyl Linalool, Hydroxycitronellal, Isoeugenol, Linalool, (E)-1-(2,6,6-Trimethyl-1,3-Cyclohexadien-1-yl)-2- Buten-1-One, 3-(2h-1,3-Benzodioxol-5-yl)-2-Methylpropanal, Citronellol, Geraniol. Causes serious eye irritation. May produce an allergic reaction. Harmful to aquatic life with long-lasting e ects. Avoid release to the environment. Dispose of contents / container to approved disposal site, in accordance with local regulations.
More from Urban Apothecary