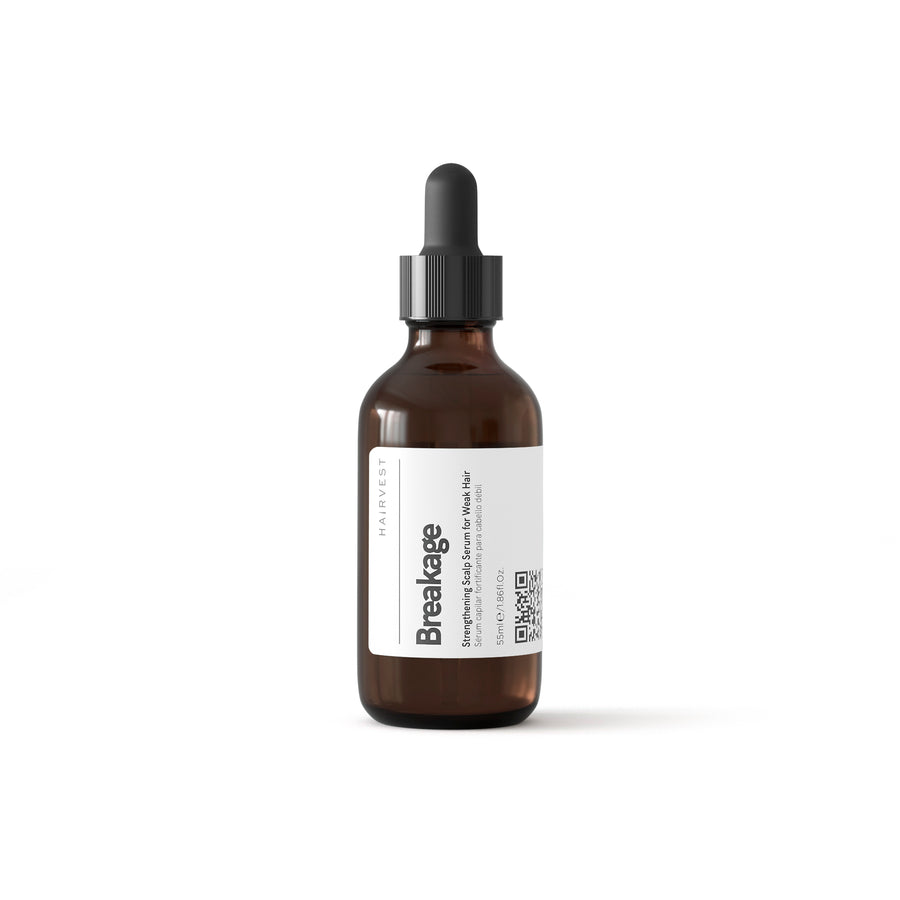 Hairvest
BREAKAGE - Strengthening Scalp Serum for Weak Hair
Designed to act directly on the hair follicle to prevent hair breakage and maintain healthy follicles by strengthening the hair from within and restoring its structure, strength and elasticity from the root.

Formulated with our exclusive Epigenetic Scalp Reset active release technology , a powerful combination of natural plants with high antioxidant, conditioning and soothing power, capable of restoring your scalp's natural balance. A unique, 100% natural and sustainable technology that achieves 10 times greater penetration and effectiveness of its active ingredients. It is also capable of acting simultaneously on the 3 pillars of capillary health: The hair, the follicle and the scalp.

A light, non-greasy and fast-absorbing formula with no side effects or rebound effect.

Visible results after 90 days and, from 120 days, the optimal results are obtained.

Shake the product well before use, to mix the natural ingredients well. Evenly distribute a whole pipette once a day and distribute drop by drop to different points of your scalp, separating the hair strands so that the product penetrates the hair follicle. Gently massage with the fingertips to spread the product well and thus stimulate microcirculation and promote its total absorption. Does not need rinsing.

Aqua (Water), Alcohol Denat., Glycerin, Lavandula Angustifolia (Lavender) Flower Water, Oligopeptide-2, Glycoproteins, Xylitol, Lactitol, Olea Europaea (Olive) Callus Culture Lysate, Caeine, Biotin, Centella Asiatica Extract, Linum Usitatissimum (Linseed ) Seed Extract, Niacinamide, Stearamine, Phytic Acid, Phosphatidylcholine, Dimyristoyl Phosphatidyl choline, Xanthan Gum, Cyamopsis Tetragonoloba (Guar) Gum, Tocopherol, Mannitol, Cyclodextrin, Calcium Gluconate, Gluconolactone, Cetyl Alcohol, Sorbitan Oleate, Pentylene Glycol, Butylene Glycol, Citric Acid, Sodium Chloride, Sodium Benzoate, Potassium Sorbate.