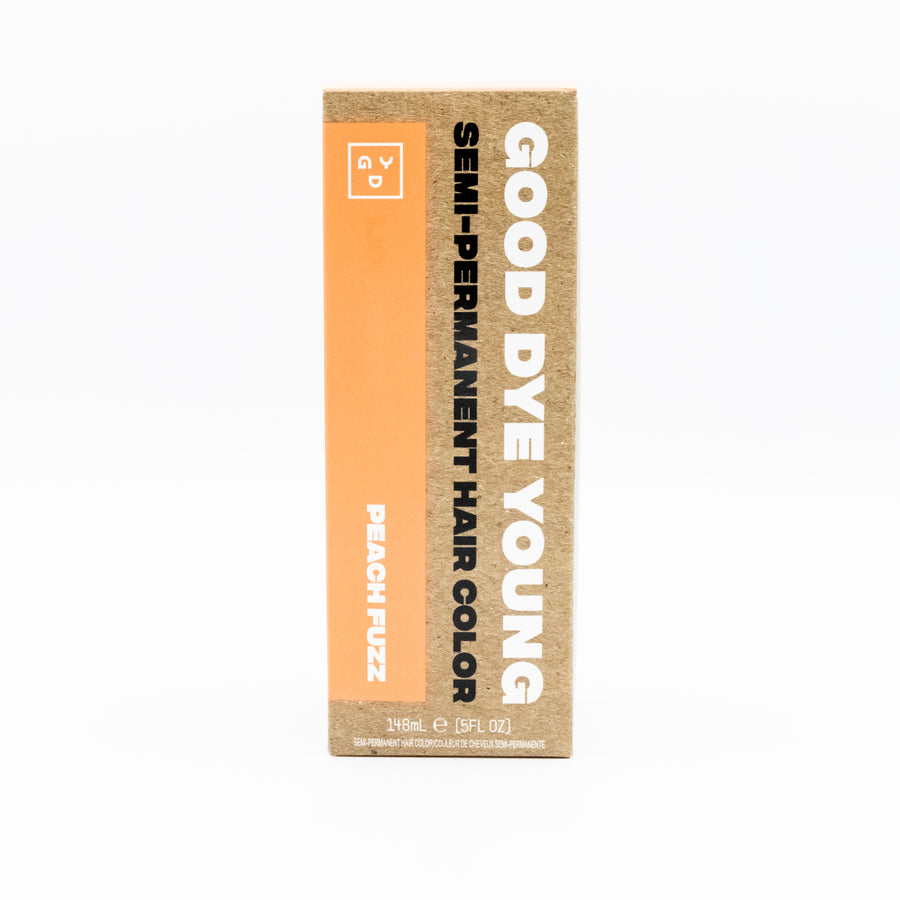 Good Dye Young
Semi-Permanent Lighter Daze Hair Color - Peach Fuzz (Pastel Orange)
Well ain't that just peachy keen. The Good Dye Young in Peach Fuzz is the perfect peach that will make you feel all warm and fuzzy inside. 

It's the perfect hair color for those who want to stand out from the crowd. This unique shade is a combination of peach and pink, resulting in a beautiful pastel hue that looks great on any skin color. The best part is that the dye is vegan and cruelty-free, so you can feel good about using it!

DISCLAIMER: All LIGHTER DAZE

colors should be applied to pre-lightened level 10 (Platinum Blonde) hair to achieve the best results.

What does it do?

The Good Dye Young Peach Fuzz combines salon-grade pigments with a nontoxic, conditioning formula that deposits ultra vibrant color. Semi-permanent hair dyes do not damage the hair, in fact they're super conditioning! GDY's formula combines a high-quality cream base, like a hair mask with essential oil benefits. The color is deposited on top of the hair shaft and acts like a stain that will fade out over time each time you wash your hair. Color can last anywhere from 4-6 weeks. We recommend using color protecting hair care like our GDY Color Kind Line to keep color vibrant longer.

What does it smell like?

Fragranced with Bergamot essential oil, our semi-permanent hair dye has a light citrus scent that is mood lifting.

Is this for my hair?

Our semi-permanent dyes will show the truest color on pre-lightened hair, levels 8-10. We recommend using our Lightening Kit to get the perfect base shade for your color.

What to know?

Semi-perm is a thick, conditioning formula, no need to mix with a conditioner.

Color payoff will vary based on how much hair is lightened as well as on the porosity of the hair and underlying hair chemistry. We recommend a hair strand test to determine color payoff.

Safe on:

All hair textures, pre lightened, chemically treated, keratin treated, and color treated hair.

Key Benefits:

Healthy hair focused, no PPDs, Ammonia, Sulfates, Parabens or other harsh hair chemicals or additives.

Sunflower Extract adds extra UV protection from the sun and hot tools that fade hair.

Fragranced with essential oil Bergamot, known for its mood-lifting properties.

Ultra creamy formula that deeply conditions while depositing color.

Our semi-permanent dyes are meticulously formulated without the presence of harmful substances such as 4-ABP, ammonia, peroxide, formaldehyde, PPD's, persulfates, paraben, resorcinol, MEA, nickel, bleach, and phthalates.

Additionally, we take pride in our commitment to being a vegan and cruelty-free brand, ensuring that all of our products align with these values.

Get ready to dye your hair with ease using Good Dye Young in Peach Fuzz!

To create the best canvas for your color, we recommend lightening your hair using our GDY Lightening Kit.

Mix color in the GDY Color Mixing Bowl and use gloves to prevent staining hands.

Ensure you strand test first before applying color all over your head.

Section and apply directly onto dry hair. Make sure color is fully saturated at every step by combining product through each section.

Let the color sit for at least 30 minutes.

Rinse with cold water and style as desired with

GDY Prime

.

Care:

Allow at least 24 hours before your first shampoo. Rinse hair with cool water each time you wash to minimize fading process. Reduce hair washing days to extend color.

Tips:

While color is processing, use a cap to keep the color damp. Coloring your hair is an investment. Make sure to use color protecting hair care like GDY's Color Kind Line to keep color vibrant longer. Product will stain, so protect hands, all surfaces and clothing. Apply shea butter, coconut oil or thick conditioner to the hairline to prevent staining.

Pro Tips:

GDY Peach Fuzz shows up best on level 10 blonde hair. If you want to change up your pastel looks often, this color is a good one to start with. Our lighter colors including Stoned Pony, and Pink Puff tend to be easier to remove from the hair. Depending on how often you wash your hair, Peach Fuzz will last anywhere from 2-4 weeks!




Water, Cetearyl Alcohol, Cetyl Alcohol, Stearyl Alcohol, Peg 40 Castor Oil, Sodium Cetearyl Sulfate, Octyldodecanol, Proplyene Glycol, Glycerin, Laureth 4, Laureth 23, Polyquaternium 6, Citris Bergamina (Bergamot Oil), Methlchlorisothiazolinone, Methylisothiazolinone, Helianthus Annuus (Sunflower) Extract, Extrait D'heliantus Annuus (Tournesol) May Also Contain: Basic Yellow 40, H C Blue 15, Basic Blue 99, Basic Orange 31, Basic Red 51, Basic Violet 16, Basic Violet 2, Basic Yellow 87, H C Blue 2, H C Red 1, H C Yellow 4.