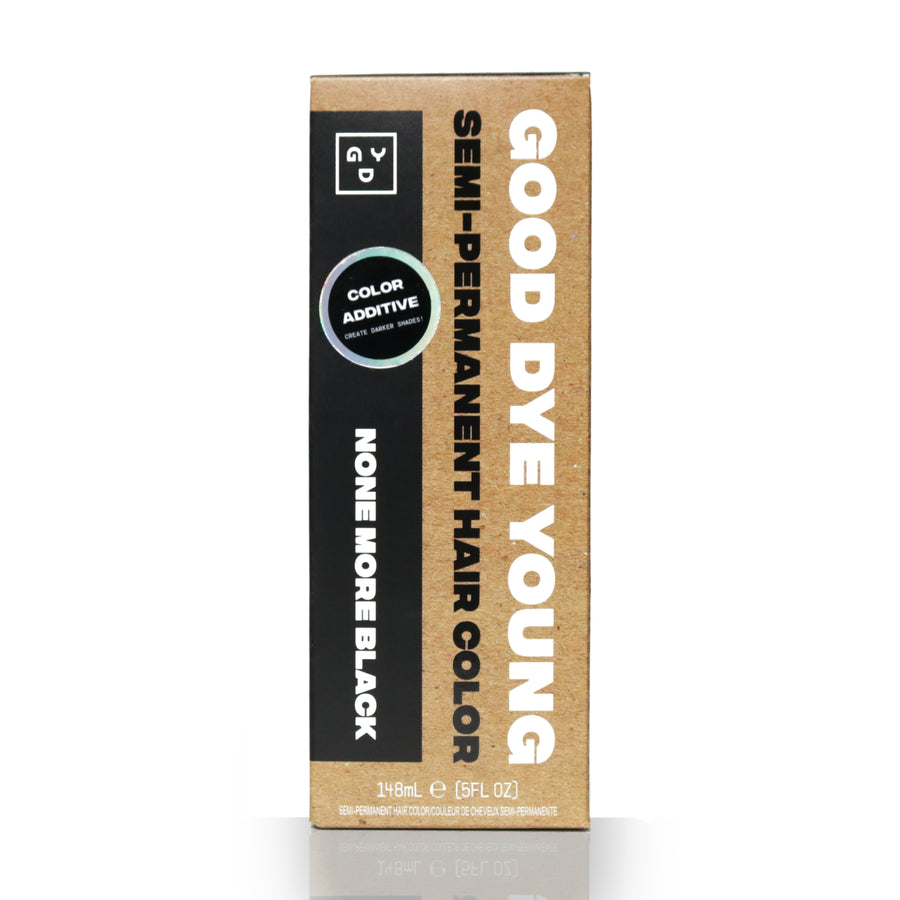 Good Dye Young
Semi-Permanent Hair Color - None More Black (Black Additive)
"It's like… 'how much more black could this be?'… And the answer is… 'None'." A violet undertone keeps the color shiny and true.

Note: We created None More Black to be used as an additive to darken our other semi-permanent colors. We don't suggest using None More Black on its own.

Mixable Unapologetically Loud Colors
Bergamot Essential Oil offers a Citrus/Sweet Scent
Botanically Infused with Natural Sunflower Extract
Ammonia Free, Formaldehyde Free, Peroxide Free, PPD Free
Vegan & Cruelty Free Cream Formula
Safe For All Hair Types

None More Black was created to be used as a mixer to darken our colors.
We do not suggest using None More Black on it's own.
With semi-permanent black dyes, the underlying pigments (blue, purple) can tend to stick to blonde hair, causing the hair to appear dark purple or blue.
Mix a few drops of NMB with Blue Ruin to create a navy blue!
Mix a few drops of NMB with Rock Lobster to create a maroon!
Mix a few drops of NMB with Kowabunga to create a forest green!
Mix a few drops of NMB with Ex-Girl to create a magenta!

Water, Cetearyl Alcohol, Cetyl Alcohol, Stearyl Alcohol, Peg 40 Castor Oil, Sodium Cetearyl Sulfate, Octyldodecanol, Proplyene Glycol, Glycerin, Laureth 4, Laureth 23, Polyquaternium 6, Citris Bergamina (Bergamot Oil), Methlchlorisothiazolinone, Methylisothiazolinone, Helianthus Annuus (Sunflower) Extract, Extrait D'heliantus Annuus (Tournesol) May Also Contain: Basic Yellow 40, H C Blue 15, Basic Blue 99, Basic Orange 31, Basic Red 51, Basic Violet 16, Basic Violet 2, Basic Yellow 87, H C Blue 2, H C Red 1, H C Yellow 4.