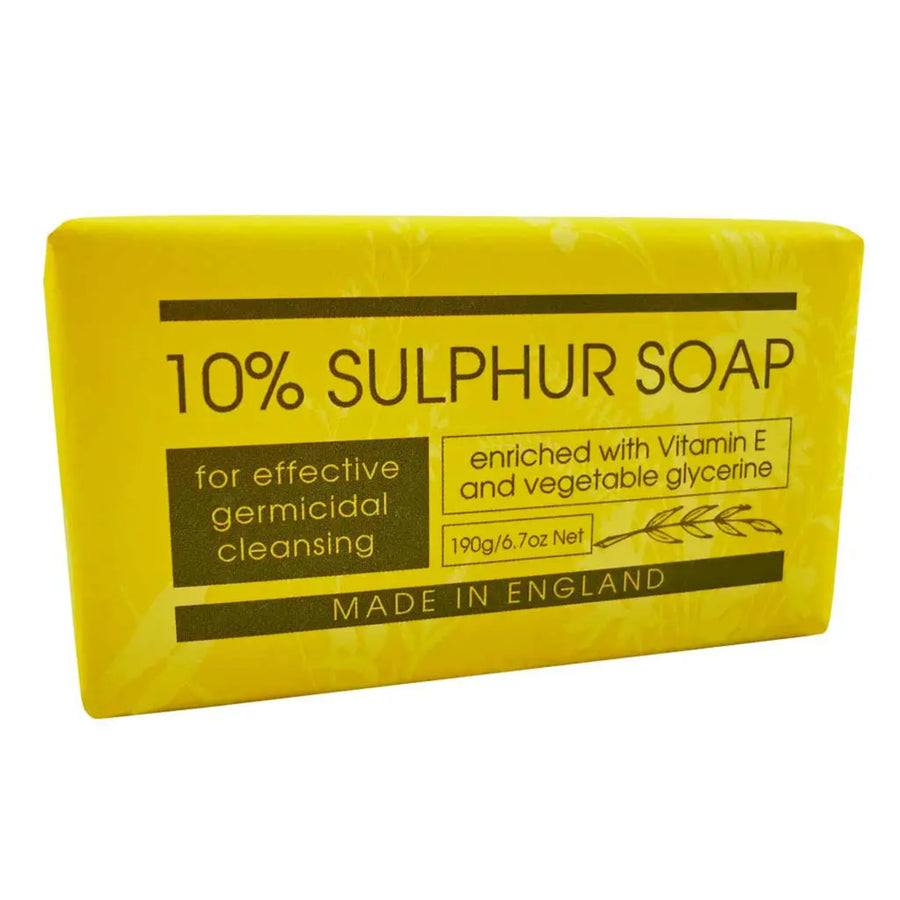 English Soap Company
10% Sulphur Soap 190g
Sulphur has been known to be a very effective germicide and fungicide and has been used for therapeutic purposes since Roman times. It is usually one of the main mineral components of hot spa water. Many people use Sulphur soap to relieve the symptoms of various skin complaints including acne, psoriasis, and eczema.

This triple-milled soap bar contains 10% Flowers of Sulphur BP (British Pharmacopoeia) and is enriched with vitamin E.

The vitamin E in this Sulphur soap bar helps to cleanse and moisturize the skin while keeping it soft, supple and fresh.

The English Soap Company Sulphur soap bar is made in the UK with pure vegetable oils using traditional triple-milled methods. While relatively affordably priced, Sulphur soap creates a rich lather, making it feel luxurious and last longer than other bars.

This vegan soap bar is cruelty-free and free from parabens, SLS and SLES, and weighs a generous 190 grams. The beautifully illustrated soap bar wraps are fully recyclable with plastic-free packaging, making them ideal guilt-free gifts for friends and family.

Buy Sulphur soap today to start experiencing its many benefits including acne cleansing and bacteria fighting.

Lather with warm water and wash off to leave skin cleansed and nourished. When not in use keep the soap bar in a dry and cool area. Warning: Avoid contact with eyes, if soap gets in eyes rinse immediately with plenty of warm water. Not suitable for children under 36 months. For external use only.

Sodium Palmate, Sodium Palm Kernelate, Aqua, Flowers of Sulphur BP, Glycerin, Palmitic Acid, Sodium Chloride, Tocopherol, Tetrasodium EDTA, Tetrasodium Etidronate.
More from English Soap Company